Parents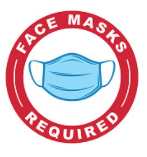 Please make sure that you send your child with at least one mask each school day.
We are not able to give your child a mask on a daily basis.

K- 3rd Grade Will Have Breakfast In Their Classrooms at 9:00am
Breakfast begins at 8:30 and concludes at 8:50 in the cafeteria for all 4th – 8th Grade

Sites To Help Parents/Students With Math:
Khan Academy. https://www.khanacademy.org
ABCya. http://www.abcya.com
IXL Math. https://www.ixl.com/math/
Math Playground. https://www.mathplayground.com
Cool Math 4 Kids​ https://www.coolmath4kids.com
FunBrain. https://www.funbrain.com
Bully Hotline:
(215) 400-SAFE
To report bullying, violence, harassment, threats and truancy. 24 hours / 7 days a week
Citizen Crime Commission Tip Line:
Toll free (877) 345-TIPS
To report crime in our schools or in our communities.
We Are Pleased To Post Both Our Title One Parent Documents. Please Take A Moment To Review:
Parent Family Engagement Policy (Please Click The Link)
Propel School Parent Compact (Please Click The Link)
N.C.P.A – 2022 – 2023
SUPPLY LISTS K – 8
(Please Scroll Down To View All Grades + Specials)
The expectation from the ALL grade teams is that every child come to school with the materials from the Supply Lists:
8th Grade Supply List
● School bag/backpack
● District issued Chromebook & amp; charger (brought to school daily)
● Noise canceling headphones
● Writing utensils (pencils & pens)
● Highlighters
● Colored pencils, markers, or crayons
● Folder or binder (One for each subject)
● Notebook (One for each subject)
● Agenda book / planner
● Optional (For Class):
– Box of tissues
– Bottle of hand sanitizer
– Disinfectant wipes
7th Grade Supply List: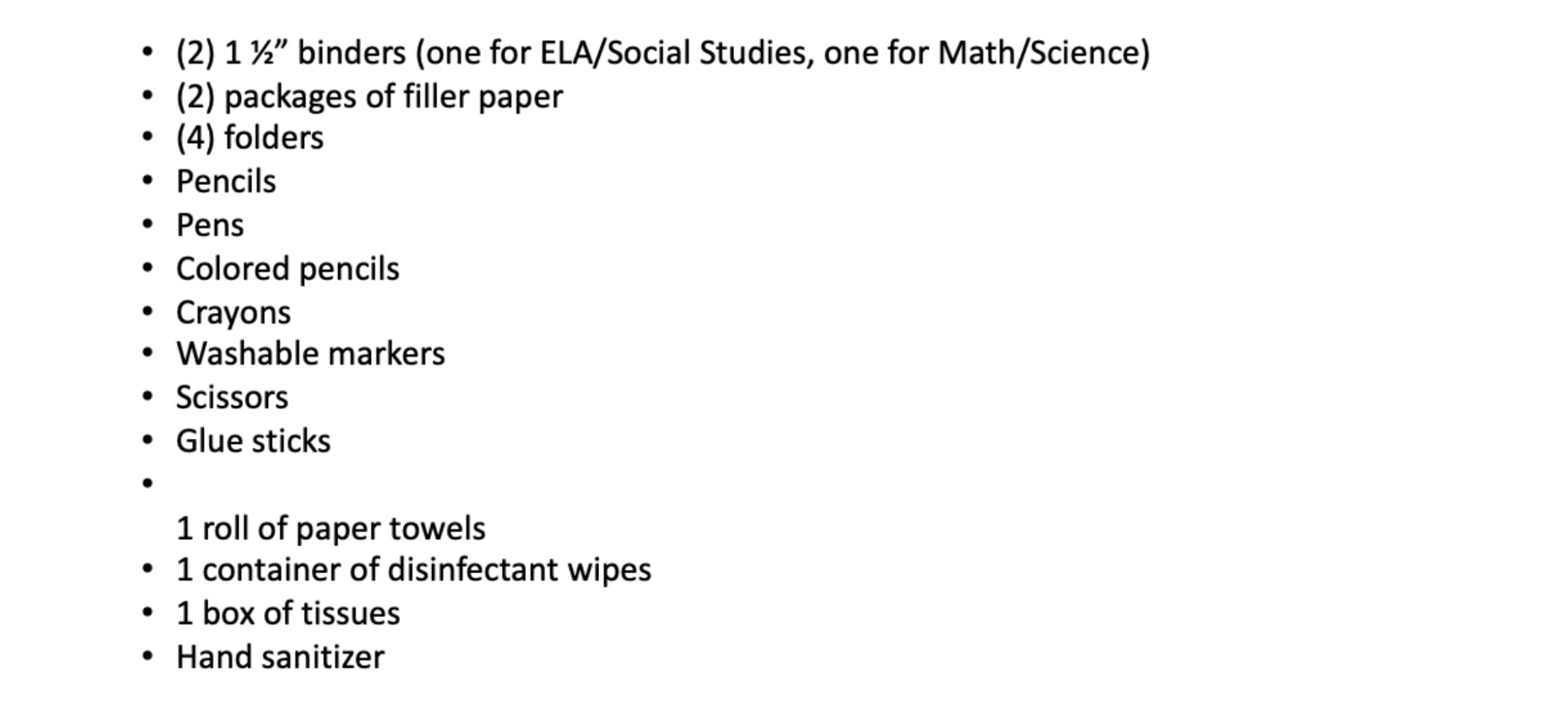 6th Grade Supply List
Chrome books (provided by the district.  Please make sure they are in working condition for the next school year)
Pencils – (10 or more packs)
5 composition/spiral notebooks
Multi- color Highlighters
4 Pocket folders
earbuds/ headphones
Loose leaf paper
Erasers
Pencil case
2 large containers of Disinfectant wipes
Disposable masks
2 large boxes of Tissues
1 large Hand sanitizer
1 Ream of white copy paper
5th Grade School Supply List
The following is a list of supplies that all 5th graders will need in order to be organized and successful students.
Four (4) Marble Composition Notebooks
Six (6) 2-Pocket Folders
One pack of Loose-Leaf Lined Paper
One ream of copy paper
Soft (not hard) Pencil Case – for supplies
#2 Pencils, pack of at least 8
Two (2) Blue or Red Ink Pens (to be used to correct work ONLY)
Colored Pencils (pack of 12)
Highlighter, any color
Large Eraser – Magic Rub recommended
One (1) Box of Tissues
One (1) Roll of Paper Towels
One (1) Container Clorox (or comparable brand) Disinfecting Wipes
One (1) Bottle Hand Sanitizer (not pocket size)
*ABSOLUTELY NO SHARPIES OR WHITE OUT ALLOWED!
We will provide additional supplies such as scissors, glue, markers, crayons, and rulers for use in the classroom.  If you have any questions regarding this list, please don't hesitate to contact the school.
4th Grade Supply List
5 marble copybooks (no spiral notebooks)
3 folders (preferably plastic)
1 binder (3 ring, 1 or 1.5 inches)
3 packs of loose leaf paper
1 pack binder dividers with tabs
3 boxes of #2 pencils (no mechanical pencils)
Crayons
Scissors
2 glue sticks
Pencil case or pencil box
1 Protractor
3 reams of white copy paper
2 packs of disinfecting wipes
2 boxes of tissues
1 roll of paper towels
3rd Grade Supply List
2 Box of #2 Pencils (sharpened)
1 Pencil Case (soft)
5 Composition Books
1 Pack of Index Cards
1 Pack of Copy Paper
2 Pack of Glue Sticks
1 Pack of Dry Erase Markers (low odor)
5 Folders
1 Backpack
1 Pack of Lysol wipes (girls)
1 Bottle of hand sanitizer (boys)
1 Box of Tissues (boys)
1 Pack of paper towels (girls)
1 Box of 24 Crayons
1 Chromebook and charger (if you have)
1 over the head headphones
ELEMENTARY K-2 Below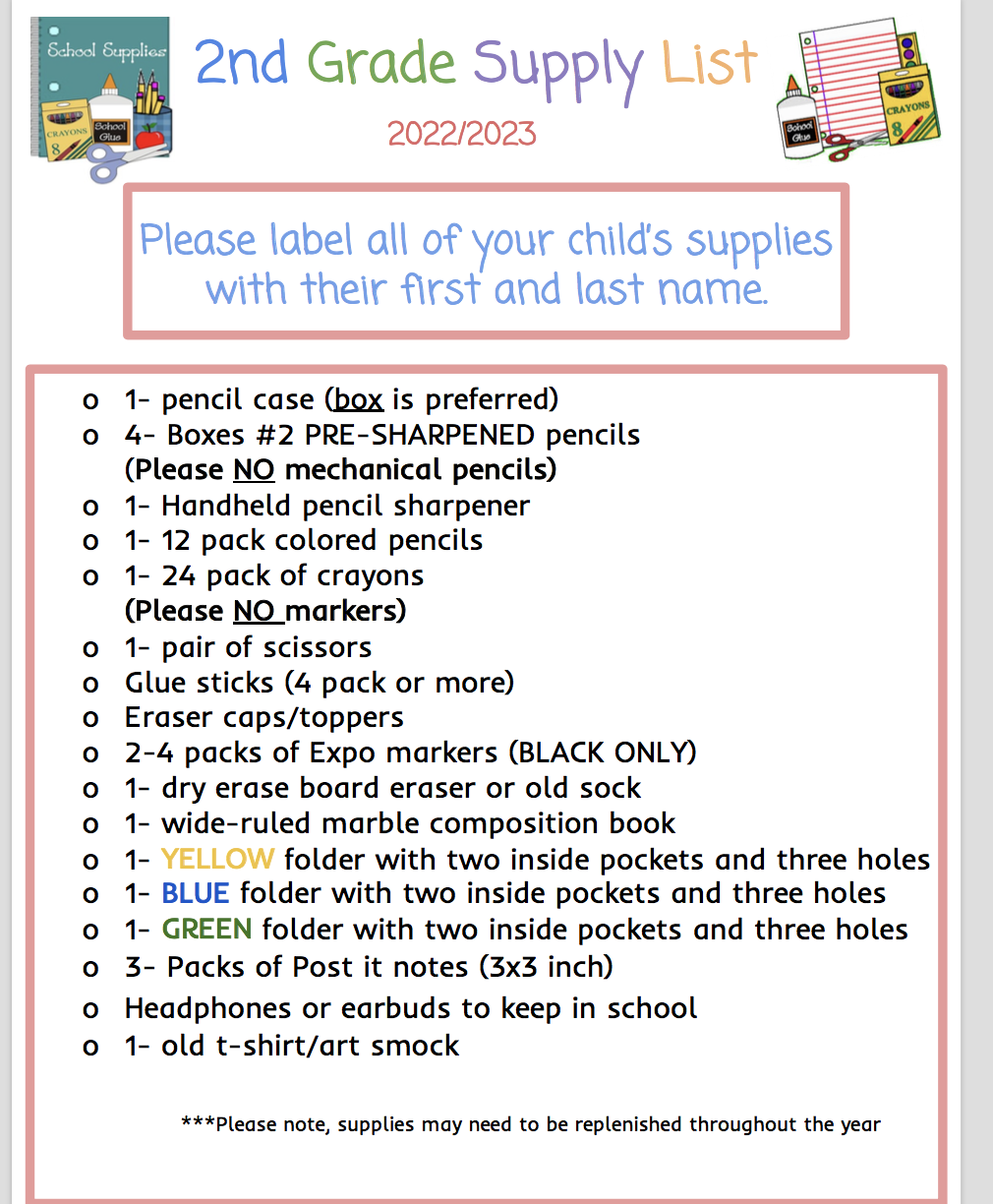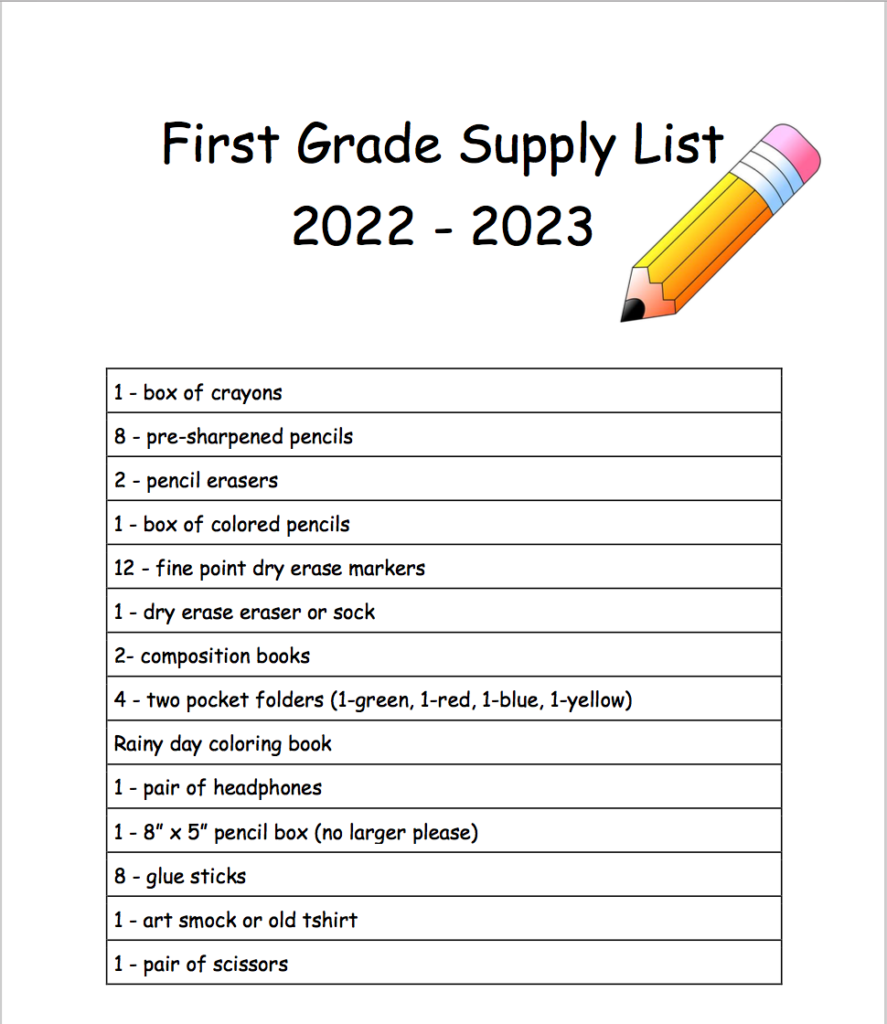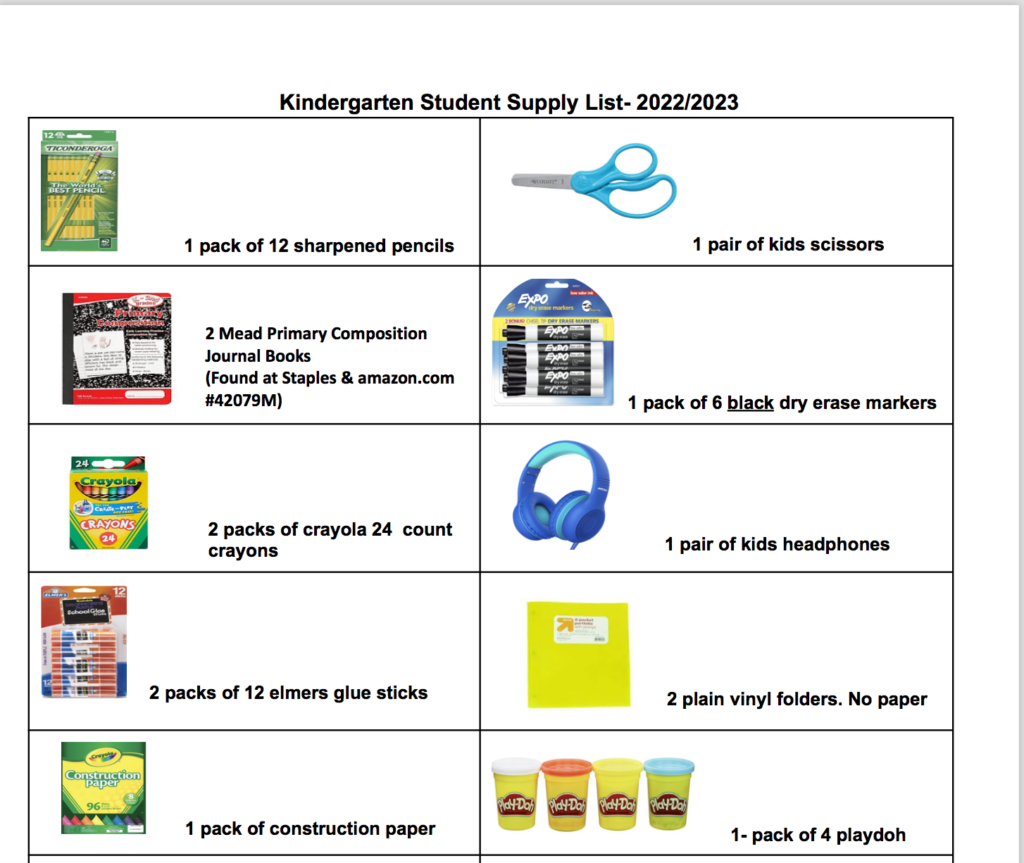 Arabic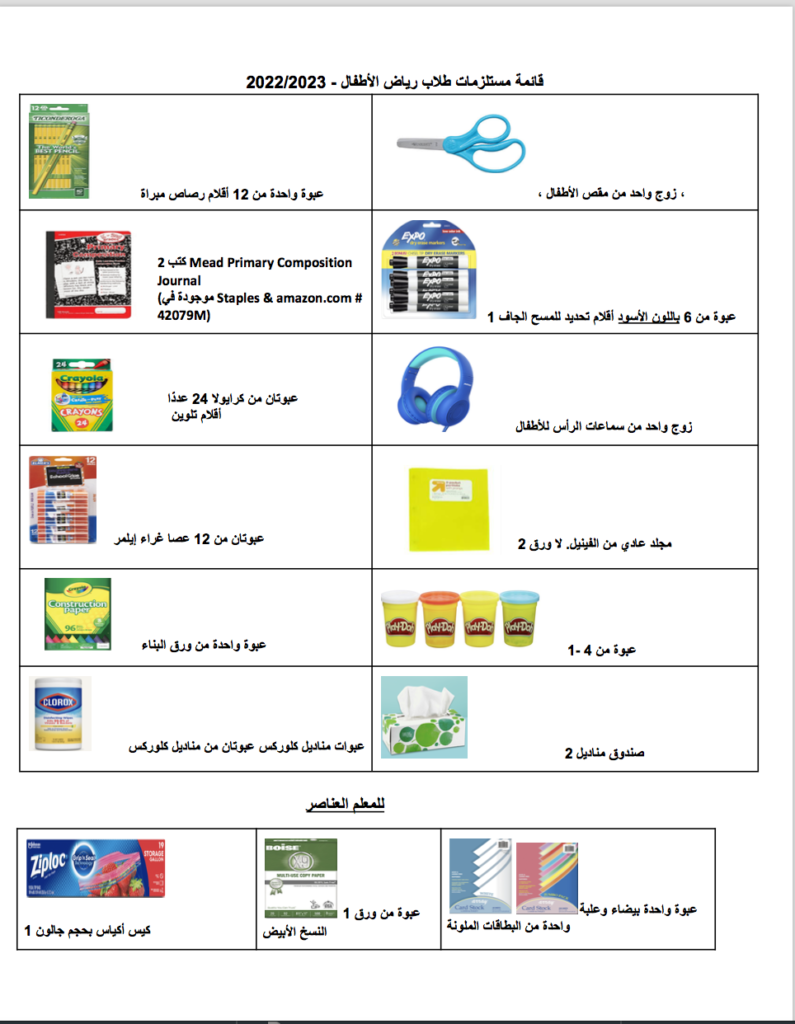 SPECIALISTS (Computers, Art, Media, 3D Printing, Music, Physical Education, Digital Keyboard Lab)
Computer Technology Classes
Supplies Needed Middle Years (
(K- 8th Grade)
Student Headphones either standard (with plug in) or Bluetooth that can be connected to the computers. I DO NOT recommend anything of extreme value to be sent to school as things sometimes occur including breakage, (AirPods, AirPod Pros, Beats, etc should really be left home or the student MUST use responsibly ).
Cheap is Good for headphones!!!!! Students will not be permitted to have the volume on the computers up this year.
Box Of Cleaning Wipes For Sanitization Of Keyboards (1 or 2)
1 Roll Of Paper Towel 
1 Box markers (Multi Colored) to be used for Coding / Planning / Designing of STEM Robotics
1 Ream of White Paper For The Lab Printer
ALL K-5 can only bring plug in headphones (NO BLUETOOTH)
Physical Education
Students must wear sneakers and proper Gym attire so they can be active in when they have gym.
Information for the uniform can be found on our website ncpa.philasd.org
Art Supply List (Elementary K-5):
Baby Wipes
Disinfecting wipes
Sponges
Tissues
Copy Paper
MAKER-SPACE 3D Printing Class